'We Begin Again' National Theatre Performance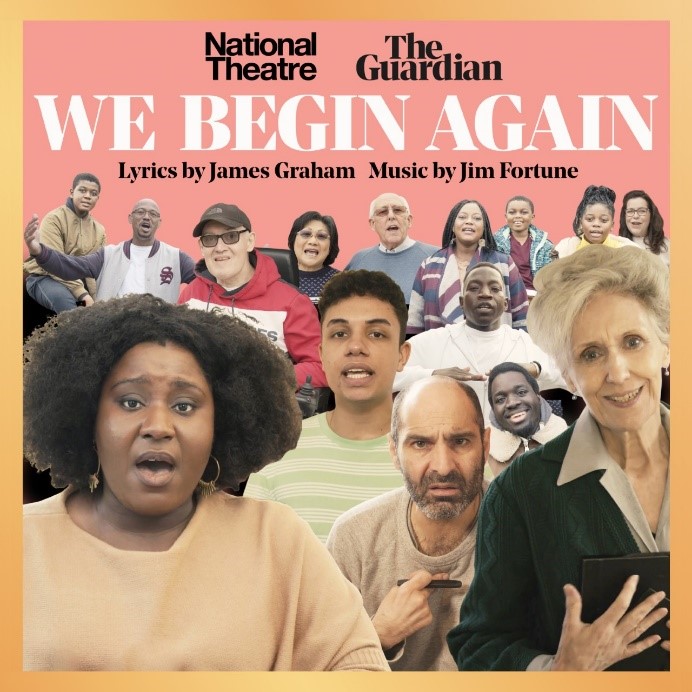 National Theatre's Public Acts community members across Doncaster and London perform in online musical "We Begin Again" produced by The Guardian, in partnership with National Theatre
17 December 2020 (midday after video live on Guardian)
The musical film is now available to watch on The Guardian website here: https://www.theguardian.com/we-begin-again and the cast recording is available wherever digital music is sold and on www.Broadwayrecords.com. 
Launching today on The Guardian and the National Theatre's digital platforms as a musical video and a standalone track released by Grammy winning record label Broadway Records, "We Begin Again" is a unifying song for the country to take stock of the extraordinary year gone by and reset for the year ahead.
Written by Olivier award winner James Graham (This House - NT, Quiz) and produced by The Guardian in partnership with the National Theatre, We Begin Again features a multi-generational cast reflecting on their individual lives and the impact 2020 has had on them. 100 community members from the National Theatre's Public Acts programme sing a hopeful chorus encouraging everyone to 'begin again'. Filmed both on location and remotely, this online musical is a clear product of these unique times.
This is the first time the National Theatre has collaborated with The Guardian to create a musical and an example of the innovative ways a news website, an arts organisation and a record label, can interpret the year gone by and bring the performing arts to a global audience during a time when many theatres have been forced to close or reduce their audience intake.
Stars of stage and screen Anita Dobson (EastEnders), Zubin Varla (Jesus Christ Superstar), Susan Wokoma (Enola Holmes) and Noah Thomas (Everybody's Talking About Jamie) are joined by members of the NT's Public Acts community partner organisations in Doncaster in partnership with Cast (B:friend, Conversation Club, Edlington Community Organisation (ECO), Cast Young Company, darts, Right Up Our Street) and our founding Greater London community partners (Bromley by Bow Centre, Body & Soul, Coram, DABD, Havering Asian Social Welfare Association (HASWA), Open Age, Thames Reach, The Faith & Belief Forum) as the community choir in the musical video. Quirky Choir (Doncaster) and Faithworks Gospel Choir (London) also feature as cameo choirs.
Emily Lim, Director of the National Theatre's Public Acts programme said, "It has been such an exciting, new experience creating this piece with our amazing Public Acts company. It is the first time we've ever made a film, and the first time our community members in Doncaster and London have united to collaborate together, cross-country! It has felt so important to stay creative and connected with one another at this time, despite all the restrictions, and we can't wait to share this message of renewal and hope with everyone at the end of such a difficult year".
Jess Gormley, Guardian Commissioner & Executive Producer says:
"The Guardian is delighted to have partnered with the National Theatre on this unique project, with both production teams working around the various obstacles this year has thrown up. As theatres have had their stage productions curtailed, going online to a large international audience provides new opportunities to reach audiences and we were excited to connect our skilled film team with Public Acts' diverse and numerous company members from London and Doncaster. It's been a tremendous group effort and we hope the final film provides a balm to our viewers, at the end of a difficult year."
We Begin Again is composed by Jim Fortune (Pericles, NT) and directed by Amy Hodge (Mr Gum and the Dancing Bear – The Musical!, NT). Julian Simmons is Music Producer, and Music Director is Tarek Merchant.
The musical film is now available to watch on The Guardian website here: https://www.theguardian.com/we-begin-again and the cast recording is available wherever digital music is sold and on www.Broadwayrecords.com.
Newsflash
Working in Partnership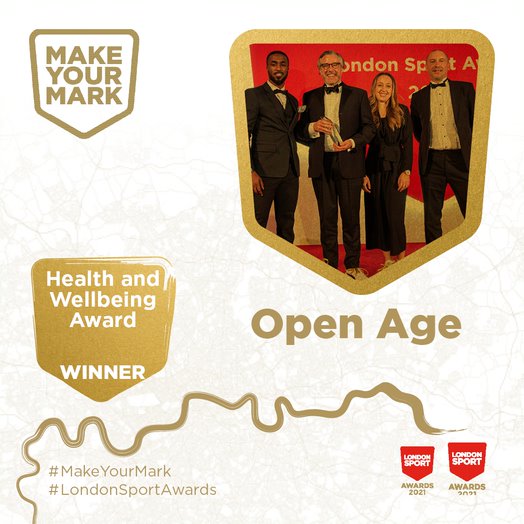 Open Age Charity Wins Major Sport Award for Innovative Physical Activities During Covid-19
Donate with peace of mind
,

Online payments to Open Age are processed by CAF - Charities Aid Foundation - which is a charity itself that supports other charities with banking, fundraising and lots more. It is safe to make a donation to Open Age using our donate buttons, powered by CAF.
,
For further information, please visit our make a donation page. Alternatively, please feel free to contact mail@openage.org.uk with any questions.
Thank you.