About us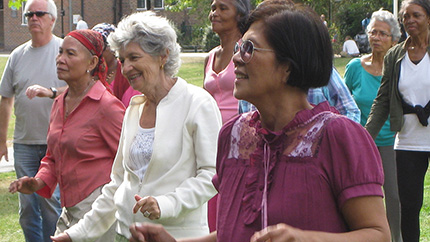 Open Age was established in 1993 and we're now celebrating over 30 years of championing an active life for older people. We work across Kensington and Chelsea, Westminster and Hammersmith and Fulham to enable anyone aged 50 or older to sustain their physical and mental fitness, maintain an active lifestyle and develop new and stimulating interests.
At Open Age we provide opportunities for our members to take part in meaningful activities, strengthen their sense of community, rediscover old hobbies, find new ones, make new friends, and most of all, have fun!
By doing this we can combat loneliness and isolation and improve the health and wellbeing of older Londoners.
Our activities and outings groups
We provide over 350 weekly activities from more than 60 sites, including the New Horizons Centre in Chelsea, the Second Half Centre in North Kensington the Avenues Centre in North Westminster and the St Margaret's Hub in South Westminster, as well as community centres, sheltered housing, church halls and libraries across the boroughs we work in.
Activities cover everything from health and fitness classes such as dance, yoga, chair exercise and walking groups to creative and performing arts sessions and weekly groups with speakers. We also have daily computer classes and drop-in sessions at our Open Age computer suites, as well as from other venues.
An outings group arranges regular visits to attractions in and around London.
There are facilitated telephone groups for those who are housebound and unable to leave their homes. 'Time For Me' provides activities and trips out for unpaid carers. Link-Up staff work on a one-to-one basis and help people who are isolated attend our activities, breaking down the barriers that are preventing them leaving their homes.
For further information please call us on 020 4516 9978.
Newsflash
Working in Partnership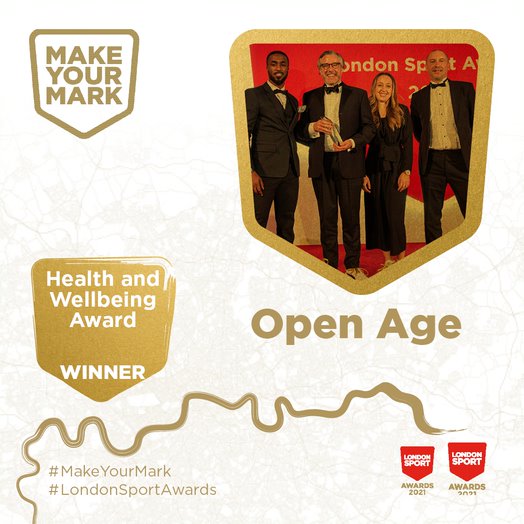 Open Age Charity Wins Major Sport Award for Innovative Physical Activities During Covid-19
Donate with peace of mind
,

Online payments to Open Age are processed by CAF - Charities Aid Foundation - which is a charity itself that supports other charities with banking, fundraising and lots more. It is safe to make a donation to Open Age using our donate buttons, powered by CAF.
,
For further information, please visit our make a donation page. Alternatively, please feel free to contact mail@openage.org.uk with any questions.
Thank you.