Accessibility Statement
Open Age is committed to providing a website that is accessible to the widest possible audience, regardless of technology or ability.
There are many ways you can make this website more accessible. You can use:
- the Tools, Options or View menu on your browser to change the font size
- the tab key on your keyboard to move around the website from link to link. (Or hold shift and tab to go backwards).
We make every effort to make sure our website is easy to use. It doesn't matter which web browser you use.
This site has been built using code compliant with W3C standards for HTML and CSS. The site displays correctly in current browsers and using standards compliant HTML/CSS code means any future browsers will also display it correctly.
Whilst Open Age strives to adhere to the accepted guidelines and standards for accessibility and usability, it is not always possible to do so in all areas of the website.
If you experience any difficulty in accessing the Open Age website please don't hesitate to contact us by e-mailing mail@openage.org.uk or calling 020 4516 9978
Newsflash
Working in Partnership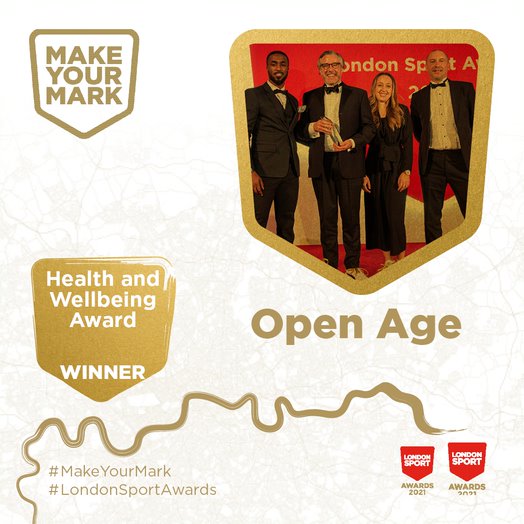 Open Age Charity Wins Major Sport Award for Innovative Physical Activities During Covid-19
Donate with peace of mind
,

Online payments to Open Age are processed by CAF - Charities Aid Foundation - which is a charity itself that supports other charities with banking, fundraising and lots more. It is safe to make a donation to Open Age using our donate buttons, powered by CAF.
,
For further information, please visit our make a donation page. Alternatively, please feel free to contact mail@openage.org.uk with any questions.
Thank you.