Contact us
Get in touch
Our Main Office is open Monday to Friday, from 9am to 5pm.
St Charles Centre for Health & Wellbeing
Exmoor Street
London
W10 6DZ
T: 020 8962 4141
F: 020 8960 5742
E: mail@openage.org.uk
Tube: Ladbroke Grove
Buses: 52, 70, 7 23, 228
Our Positive Age Centre and New Futures 50+ Employment Programme is open Monday to Thursday from 9am to 5pm.
Positive Age Centre
Dalgarno Way
London
W10 5JN
T: 020 8960 4853
E: newfutures@openage.org.uk
Buses: 70 & 7
Newsflash
Leaving a Gift in Your Will
Open Age is raising awareness of leaving a gift to charity in your will. Legacies are an important way to support Open Age, as they help us to plan so that we can be there in the future for older people who need us. As well as providing for your family, friends and other loved ones in your will, please do consider the possibility of leaving a gift to Open Age.
,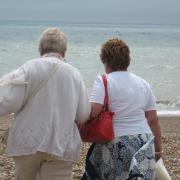 ,
For further information, please download a brochure here or contact Open Age on 020 8962 4141, or email mail@openage.org.uk.
,
New Reed Centre!
We are delighted to be working in partnership with Octavia to deliver activities for older people at The Reed, a vibrant new community hub. For more information click here.