Be Active Programme
Be Active matches volunteers one-to-one with a 60+ adult to support their rehabilitation exercises at home and in the community for up to 9 sessions.* Be Active aims to enable a person to increase their independence and connection to their community.
Volunteers support and motivate an older person based in Westminster or Kensington & Chelsea to follow their prescribed exercise plan and, through a series of these sessions, help build their confidence. This will empower them to go on to regular activity and getting about within their community. Open Age, with its partners, provides training, as well as support from project coordinators and peers throughout the programme. Volunteers do not need any qualifications and can live anywhere within easy travelling distance of Westminster and Kensington & Chelsea – you just need to be enthusiastic, committed, and have an empathetic approach and a desire to empower older people.
You can apply to volunteer with Be Active by completing the volunteer application here. Please send the completed application form to beactive@openage.org.uk
* Participants are referred to Be Active through a care service provider such as the Community Independence Service of the Central and Northwest London NHS Foundation Trust.
Newsflash
Working in Partnership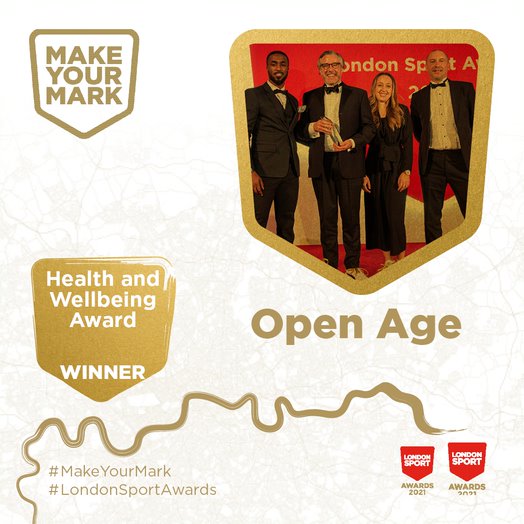 Open Age Charity Wins Major Sport Award for Innovative Physical Activities During Covid-19
Donate with peace of mind
,

Online payments to Open Age are processed by CAF - Charities Aid Foundation - which is a charity itself that supports other charities with banking, fundraising and lots more. It is safe to make a donation to Open Age using our donate buttons, powered by CAF.
,
For further information, please visit our make a donation page. Alternatively, please feel free to contact mail@openage.org.uk with any questions.
Thank you.