Healthy Lungs
'Healthy Lungs' is an exercise class designed for people with long-term breathing conditions or difficulties. The classes include graded circuit training to help improve endurance and strength. This type of exercise will increase lung function and muscle strength, which will allow you to perform your daily living activities with less effort.
These classes are offered to Kensington and Chelsea and Westminster residents and in order to take part, a diagnosed lung condition is essential.
Sessions cost £1 per week and take place on:
Tuesdays 10.30am – 11.30am on Zoom
Tuesdays 2.30 – 3.30pm on Zoom
To book please contact Pia on 020 4516 9973 or via email at pjuneja@openage.org.uk
Newsflash
Working in Partnership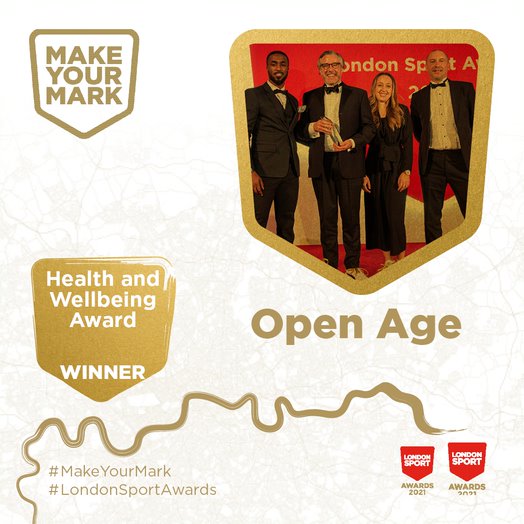 Open Age Charity Wins Major Sport Award for Innovative Physical Activities During Covid-19
Donate with peace of mind
,

Online payments to Open Age are processed by CAF - Charities Aid Foundation - which is a charity itself that supports other charities with banking, fundraising and lots more. It is safe to make a donation to Open Age using our donate buttons, powered by CAF.
,
For further information, please visit our make a donation page. Alternatively, please feel free to contact mail@openage.org.uk with any questions.
Thank you.