Job Vacancies
Would you like an exciting opportunity to join Open Age an innovative London charity working with people 50+?
Established in 1993 and now celebrating almost 30 years of championing an active life for older people. Each week we run a wide range of activities for older people from our own centres, community venues and now during restrictions online and by phone. From boxing to ballet, painting to photography - Open Age's array of activities seeks to improve the physical and mental wellbeing of our members and, in doing so, aims to address the issue of loneliness and isolation among older people.
See below for current vacancies
---
Freelance Tutors for our ACL (Adult Community Learning) courses
Role description: We are looking for freelance tutors within our Adult Community Learning (ACL) area which is funded by the Royal Borough of Kensington and Chelsea (RBKC). Courses generally run for two hours over 10 weeks per term (no class in half term), 3 terms per year.
For our September 2022 programme we are looking for tutors:
who are interested in widening the choice of courses for our members. If you have a passion for a particular subject/topic please get in touch. Deadline to submit expression of interest: 15 July. Following on from this you will be asked to complete a course proposal template
to deliver a drama class at our New Horizons hub, SW3 2PF. Deadline to submit expression of interest: 15 July
to deliver French classes. Deadline to submit expression of interest: 15 July
to deliver Creative Writing and Poetry classes. Deadline to submit expression of interest: 30 June
Applying for this role: Our tutors are freelance. Hourly rate is £26/hr which includes planning, delivery and paperwork. Tutors are required to have a DBS check (costs covered by us); and possess independent public liability insurance. If we are interested in your expression of interest we will follow up with reference requests and an interview.
We would love to hear from you. Having a teaching qualification is desirable. Our groups are lively sociable learning groups in an organisation which is a fun, warm and vibrant place to work.
If interested please send your CV to Angela Sharkey, Head of Community Learning and Development, Second Half Centre, St. Charles Centre, Exmoor Street, London W10 6DZ – asharkey@openage.org.uk - Tel – 020 4516 9972.
Newsflash
Working in Partnership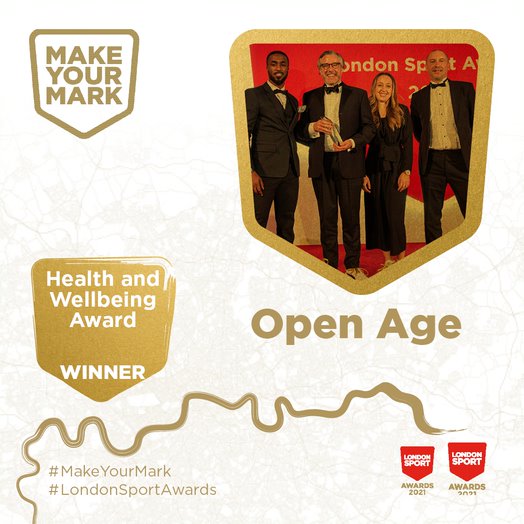 Open Age Charity Wins Major Sport Award for Innovative Physical Activities During Covid-19
Donate with peace of mind
,

Online payments to Open Age are processed by CAF - Charities Aid Foundation - which is a charity itself that supports other charities with banking, fundraising and lots more. It is safe to make a donation to Open Age using our donate buttons, powered by CAF.
,
For further information, please visit our make a donation page. Alternatively, please feel free to contact mail@openage.org.uk with any questions.
Thank you.