Hammersmith and Fulham
Welcome to the Hammersmith & Fulham activities page.
Get ready for a new term with Open Age in Hammersmith & Fulham!
New this season is a Zumba class which will run at The Parish Hall, Our Lady of Fatima. We'll also be working in partnership with The Reader Association to bring you a fabulous Shared Reading Group on Friday mornings, 10.30am – 12.30pm from 4th October in The Invention Rooms Café, Imperial College. Come along and experience these calming and thought-provoking events!
And if calm is your aim, come along to Wentworth Court (Bayonne and Field Estate) on Friday afternoons at 1pm for a wonderful Mindfulness & Relaxation session (from 13th September).
Our Arts & Crafts sessions will continue this term with new tutor Alaydis at The Invention Rooms Café, Imperial College on Thursday afternoons (starts 12th September). Come along and try your hand. We continue our fantastic partnership with the Hammersmith & Fulham Council Waste & Recycling team who teach us how to re-evaluate and appreciate recycled materials.
Most exciting this term is the new 'Stand Up for the Over 50s' comedy project! Over five weeks intrepid Open Age members will learn to write and perform a five-minute comedy routine and, on 16th October will perform their routines in public at a fund raising event for Open Age, entitled 'A Funny Thing Happened…'! Are you brave enough to join in??! If so, please contact Vivienne on 078 24 48 49 84 to sign up. But please note, you must commit to all sessions and although you don't have to perform on 16th October, we will prioritise those who will!
Please put the 16th October performance in your diaries and come along and support your fellow Open Age members!
For full details of all of the above exciting activities – and much, much more – please refer to the Hammersmith & Fulham activity programme.
If you have any questions, or have ideas for a class, please call Vivienne on 078 24 48 49 84.
We look forward to seeing you soon!
Newsflash
Leaving a Gift in Your Will
Open Age is raising awareness of leaving a gift to charity in your will. Legacies are an important way to support Open Age, as they help us to plan so that we can be there in the future for older people who need us. As well as providing for your family, friends and other loved ones in your will, please do consider the possibility of leaving a gift to Open Age.
,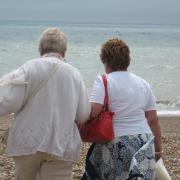 ,
For further information, please download a brochure here or contact Open Age on 020 8962 4141, or email mail@openage.org.uk.
,
New Reed Centre!
We are delighted to be working in partnership with Octavia to deliver activities for older people at The Reed, a vibrant new community hub. For more information click here.