Hammersmith and Fulham
This term our programme of activities continues apace! Our popular classes including Seated Kundalini Yoga and Pilates continue as before, while our Mindfulness & Relaxation classes are now held on Mondays (mornings at Wentworth Court Residents Community Hall and afternoons at Charecroft Hall  in Shepherds Bush). These classes are a wonderful way to learn to relax. These classes will teach valuable techniques to help you to improve your quality of sleep or control stress and anxiety. Or just come along for 90 minutes of calm in good company!
Our Awareness through Movement class continues to run on Wednesday afternoons at the Edward Woods Community Centre (14.00 – 15.00 hrs). This course teaches gentle movement sequences to re-educate our use of our body; it can help improve breathing and posture and ease chronic muscular tension. It can also improve the ability to get up from the floor – so valuable as we get older!
Meanwhile, our Steady & Stable classes continue on Mondays and Tuesdays. These classes help build muscle strength and improve balance in order to minimise the risks of falling (or help recover after a fall).  You can be referred by your GP or self-refer; for more details, please call Tina Mayley-James 020 8962 5582 (Tina's working hours are Monday 9.00 - 13.00 hrs, Thursday 14.00 - 17.00 hrs and Friday 9.00 - 14.00 hrs).
Our singing class ('Tunes & Tea') has moved to a new day: it is now on Thursday mornings, 11.00 – 12.30 hrs. Our monthly film clubs continue; we run one club on the last Wednesday of the month in partnership with Action on Disability and another on the second Thursday of the month in partnership with the Church of St Michael and St George in White City. Please see the full programme for details of these and all other activities!
If you have any questions, or have ideas for a class, call Vivienne on 078 2448 4984. Vivienne also offers a Link Up service which acts as a first step into participation in activities and groups of interest in the neighbourhood for anyone who would like support to meet new friends or get out of the house more.
We look forward to seeing you soon!
​Hammersmith and Fulham Summer Activities 2018
Newsflash
Leaving a Gift in Your Will
Open Age is raising awareness of leaving a gift to charity in your will. Legacies are an important way to support Open Age, as they help us to plan so that we can be there in the future for older people who need us. As well as providing for your family, friends and other loved ones in your will, please do consider the possibility of leaving a gift to Open Age.
,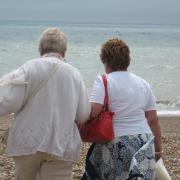 ,
For further information, please download a brochure here or contact Open Age on 020 8962 4141, or email mail@openage.org.uk.
,
New Reed Centre!
We are delighted to be working in partnership with Octavia to deliver activities for older people at The Reed, a vibrant new community hub. For more information click here.