Hammersmith and Fulham
Welcome to the Hammersmith & Fulham activities page.
We've provided a wide range of activities in the borough for over three years, running physical exercise and creative activities which offer a way to keep fit and happy and a chance to meet like-minded people.
Choose from classes like, Pilates, Steady & Stable, Zumba, regular film clubs and much more.
This term we have some exciting new activities including Boxing Fitness (Mondays), Ballroom dancing class and Tea dances (Wednesdays), while on Thursdays we have two new activities: Cycle Smarter courses (mornings) and Arts and Crafts for All sessions (afternoons).
Our partnership with the Second Half Foundation continues and we are delighted to welcome a new weekly Club on Mondays at All Saints Church, Fulham, starting on 3rd June.
The Second Half Club at St Andrews Church, Greyhound Road will also continue to run its successful programme. Please note, however, that the start of term has had to be delayed by one week – to 10th May – as there will be a funeral at the church on the original start date. The new dates can be found in the Hammersmith & Fulham activity programme, below.
If you have any questions, or have ideas for a class, please call Vivienne on 078 24 48 49 84.
We look forward to seeing you soon!
Newsflash
Leaving a Gift in Your Will
Open Age is raising awareness of leaving a gift to charity in your will. Legacies are an important way to support Open Age, as they help us to plan so that we can be there in the future for older people who need us. As well as providing for your family, friends and other loved ones in your will, please do consider the possibility of leaving a gift to Open Age.
,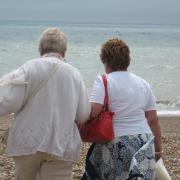 ,
For further information, please download a brochure here or contact Open Age on 020 8962 4141, or email mail@openage.org.uk.
,
New Reed Centre!
We are delighted to be working in partnership with Octavia to deliver activities for older people at The Reed, a vibrant new community hub. For more information click here.