Hammersmith and Fulham
Welcome to the Hammersmith & Fulham activities page.
We've provided a wide range of activities in the borough for over three years, running physical exercise and creative activities which offer a way to keep fit and happy and a chance to meet like-minded people.
Choose from classes like Relaxation & Mindfulness, Pilates, Steady & Stable, Zumba, regular film clubs and much more.
We are particularly delighted to be working in partnership with the Second Half Foundation in a new one-day-per-week club at St Andrew's Church, Greyhound Road, starting on Friday 11th January 2019. (You can view the programme at the bottom of this page.) This is an exciting new venture in Hammersmith & Fulham, so do please come along!
Activities in the Club include advice on IT queries, Zumba and singing sessions and an early afternoon film show, including the following programme:
18 Jan – Mama Mia
25 Jan – Annie
1 Feb – The King's Speech
8 Feb – The Queen
If you have any questions, or have ideas for a class, call Vivienne on 078 24 48 49 84. Vivienne also offers a Link Up service which acts as a first step into participation in activities and groups of interest in the neighbourhood for anyone who would like support to meet new friends or get out of the house more.
We look forward to seeing you soon!
Newsflash
Leaving a Gift in Your Will
Open Age is raising awareness of leaving a gift to charity in your will. Legacies are an important way to support Open Age, as they help us to plan so that we can be there in the future for older people who need us. As well as providing for your family, friends and other loved ones in your will, please do consider the possibility of leaving a gift to Open Age.
,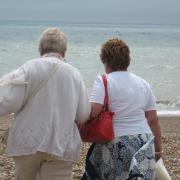 ,
For further information, please download a brochure here or contact Open Age on 020 8962 4141, or email mail@openage.org.uk.
,
New Reed Centre!
We are delighted to be working in partnership with Octavia to deliver activities for older people at The Reed, a vibrant new community hub. For more information click here.