Housebound
Open Age runs phone-based activities for people who are house-bound and living in RBKC and Westminster. The coordinator, Ewa, can visit people at home and talk through the activity options, as well as showing people how to log in to the phone groups. All phone-based activities are free and the groups are facilitated by Ewa. Currently Open Age offers the following groups for people who are housebound:
•  Social groups: small and friendly groups that meet a couple of times a week over the phone to discuss a range of topics including current affairs, films and quizzes
•  Creative writing: weekly creative writing groups 
• Book group: Weekly Shared Reading groups run in partnership with RBKC and Westminster home libraries service.
To find out more, make a referral or arrange for Ewa to visit please call Open Age on 020 8962 5584.
Click here to read an article from The Guardian about our Phone Groups 

Newsflash
Leaving a Gift in Your Will
Open Age is raising awareness of leaving a gift to charity in your will. Legacies are an important way to support Open Age, as they help us to plan so that we can be there in the future for older people who need us. As well as providing for your family, friends and other loved ones in your will, please do consider the possibility of leaving a gift to Open Age.
,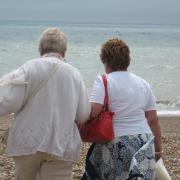 ,
For further information, please download a brochure here or contact Open Age on 020 8962 4141, or email mail@openage.org.uk.
,
New Reed Centre!
We are delighted to be working in partnership with Octavia to deliver activities for older people at The Reed, a vibrant new community hub. For more information click here.