Westbourne Hub
Our Westbourne hub is now based at the Warwick Community Hall. The activities we offer include play reading, yoga, computer training, chair exercise, knitting, dance, current affairs and sewing to name just some of our 40+ activities! To see the full range, click on the Activities section.
Get in touch
Our hub is managed by Alexandra. Drop in or call us. We'd love to hear suggestions for new activities. We already have lots of exciting new projects and activities which will be added to next term's programme.
Call Alexandra or Maureen on 020 3713 8737.
News from Westbourne Hub
Five groups from the regular Magic Monday sessions at Warwick Hall, decamped for the day to Kensington Palace for a 'Victorian Experience'. They had a great time and were taken on a guided tour of the 'Victoria Revealed' galleries, and also enjoyed a handling session of Victorian clothing and footwear. Various activities followed lunch: Victorian Silhouette card making; sewing Victorian pincushions; a short play by Charles Dickens was performed by the play readers; Current Affairs discussed the topic of 'Royal Romances – then and now'. Further partnership work is planned with the Palace – look out for details on the programme.
We have also run a variety of dance performance projects. Three of these have been in partnership with English National Ballet, including 'Dance for Health', a 12-week course based on the ballet 'Strictly Gershwin', a maypole performance for Kensington Palace Party and 'Westfield Flashmob' with 200 young dancers from across London.
Please click HERE to see one of the dance groups perform 'Of Women' at The Elixir Festival, Sadler Wells - September 2014.
Here is a dance performance group in rehearsal.
The Westbourne Hub also put together its own intergenerational BIG Dance performance for the 'BIG Dance Bus' in Covent Garden and was asked to perform the piece again and produce a bigger community programme for the Westminster 'Arts for Wellbeing Festival' at the Cockpit Theatre.
In partnership with Wigmore Hall, Westbourne Hub members worked with Queen's Park Primary School to create an exciting community opera based on folk stories and lullabies, which was performed at Wigmore.
Further partnership projects include intergenerational work with sixth-form students from Westminster Academy: We Cook! intergenerational cookery sessions; We Click! for mobile phone and computer training ; and the popular Monthly Film Club, on the last Friday of each month – look out for further details.
Newsflash
Leaving a Gift in Your Will
Open Age is raising awareness of leaving a gift to charity in your will. Legacies are an important way to support Open Age, as they help us to plan so that we can be there in the future for older people who need us. As well as providing for your family, friends and other loved ones in your will, please do consider the possibility of leaving a gift to Open Age.
,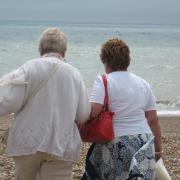 ,
For further information, please download a brochure here or contact Open Age on 020 8962 4141, or email mail@openage.org.uk.
,
New Reed Centre!
We are delighted to be working in partnership with Octavia to deliver activities for older people at The Reed, a vibrant new community hub. For more information click here.