Success Stories
Open Age's Work Routes 50+ employment team has successfully helped dozens of job seekers find employment.
Below are a few of the success stories of people who've been helped back into employment by Open Age.
Rika
Rika joined Open Age in February 2019 and started a job as an Administration Assistant for an Accountancy firm in the City of London in April 2019.
"I found the team at Open Age Work Routes 50+ very supportive and welcoming, the team helped me to update my CV and showed me how to improve my job searches.
I was regularly attending interviews but initially not successful, after speaking with the Open Age Team they gave me a Mock Interview which really boosted my confidence, I was given some homework thereafter to create several questions for my future Employer and additional mock interview questions so that I could practice before my pending interviews.
I was also referred to SmartWorks for interview clothing, they were really good and again I received another mock interview.
In April 2019 I got an excellent job at an Accountancy firm in the City of London, I still receive support from the Open Age Team and I strongly recommend their services."
Patricia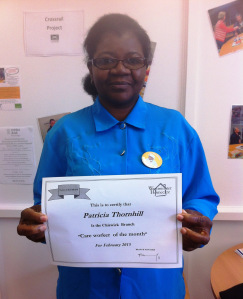 Patricia Thornhill, whom Open Age helped gain employment as a Care Worker for Westminster Homecare, was awarded a certificate for Care Worker of the Month. Well done Patricia!