South Westminster
Our hub in South Westminster is based at St Margaret's Centre, just off Vauxhall Bridge Road.
St Margaret's 
1 Carey Place
London
SW1V 2RT 
We run many of our sessions in local venues, around Churchill Gardens Estate and elsewhere. You can check out the full programme of events in the Activities section.
Churchill Gardens Creative Writing
As part of the Brutalist Playground programme, the RIBA sought to engage with local residents on the estates that are referenced and recreated in the installation. By working with Open Age RIBA discovered a vibrant Creative Writing group who live, or have lived, near or on the Churchill Gardens Estate in Pimlico.
Click here to read the collection.
Get in touch
Our South Westminster hub is managed by Hannah Munns. We enjoy welcoming new people so drop in for a chat – or call or email us if you have any questions. We'd love to hear if you have ideas for new activities.
Hannah
T: 020 7976 6354 or 07530 734 489
E: hmunns@openage.org.uk
Newsflash
Leaving a Gift in Your Will
Open Age is raising awareness of leaving a gift to charity in your will. Legacies are an important way to support Open Age, as they help us to plan so that we can be there in the future for older people who need us. As well as providing for your family, friends and other loved ones in your will, please do consider the possibility of leaving a gift to Open Age.
,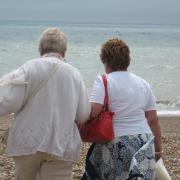 ,
For further information, please download a brochure here or contact Open Age on 020 8962 4141, or email mail@openage.org.uk.
,
New Reed Centre!
We are delighted to be working in partnership with Octavia to deliver activities for older people at The Reed, a vibrant new community hub. For more information click here.