Open Age COVID-19 Response
Throughout the current coronavirus crisis Open Age has followed all official government advice and we continue to do so. This advice changed dramatically on Monday 16th March 2020 when and official Government advice indicated that everyone, especially those groups who are at an increased risk from the effects of the virus, should now begin to follow "social distancing" measures.
Open Age have therefore now stopped running all of our activities, at all of our venues, with immediate effect. The government is indicating that their recommendations will be in place for several months therefore our activities will not be resuming until the official advice changes.
We know that not all older people are the same, and we know that many of our members are fit and healthy, however the government has indicated that anyone over the age of 70 and/or those with underlying health conditions should be "particularly stringent" in following their advice. We therefore believe that stopping all of our activities is the most responsible thing for Open Age to do.
While our activities are suspended we still want to be in contact with you, our members. Please keep checking our website for updates and we will continue to communicate with you as usual. We will let you know of any changes to our approach as soon as we can.
Open Age will work with other charities, organisations and local government wherever we can to offer support to our members  during what could be relatively long period where we are all being asked to limit our contact with others                                                                             
The health and safety of our members and staff is our number one priority so please can we ask you all to follow the government advice as closely as possible. This main advice is outlined below and more information can be found by clicking on the link at the bottom of this section.
Wash your hands more often - with soap and water for at least 20 seconds or use a hand sanitiser when you get home or into a new venue, when you blow your nose, sneeze or cough, eat or handle food
Avoid contact with someone who is displaying symptoms of coronavirus (COVID-19). These symptoms include high temperature and/or new and continuous cough
Avoid non-essential use of public transport, varying your travel times to avoid rush hour, when possible
Avoid large gatherings, and gatherings in smaller public spaces such as pubs, cinemas, restaurants, theatres, bars, clubs
Avoid gatherings with friends and family. Keep in touch using remote technology such as phone, internet, and social media.
Use telephone or online services to contact your GP or other essential services unless your symptom become very severe or change rapidly
https://www.gov.uk/government/publications/covid-19-guidance-on-social-distancing-and-for-vulnerable-people/guidance-on-social-distancing-for-everyone-in-the-uk-and-protecting-older-people-and-vulnerable-adults
Newsflash
Leaving a Gift in Your Will
Open Age is raising awareness of leaving a gift to charity in your will. Legacies are an important way to support Open Age, as they help us to plan so that we can be there in the future for older people who need us. As well as providing for your family, friends and other loved ones in your will, please do consider the possibility of leaving a gift to Open Age.
,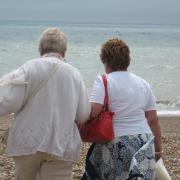 ,
For further information, please download a brochure here or contact Open Age on 020 8962 4141, or email mail@openage.org.uk.
,
New Reed Centre!
We are delighted to be working in partnership with Octavia to deliver activities for older people at The Reed, a vibrant new community hub. For more information click here.