New Horizons Centre
New Horizons is a lively, convivial centre in Chelsea. Our aim is to promote active lifestyles and independence. Whether you are looking for new challenges, health support or the opportunity to make new acquaintances, why not come and see all that we have to offer.
We look forward to inquiries from new members - joining is simply a matter of filling out the membership form; there is no fee.
The address is: New Horizons, Guinness Trust Estate, Cadogan Street, London, SW3 2PF
Opening Times: 9:30 - 4.00 Monday to Friday.
The current New Horizons members' newsletter can be found here.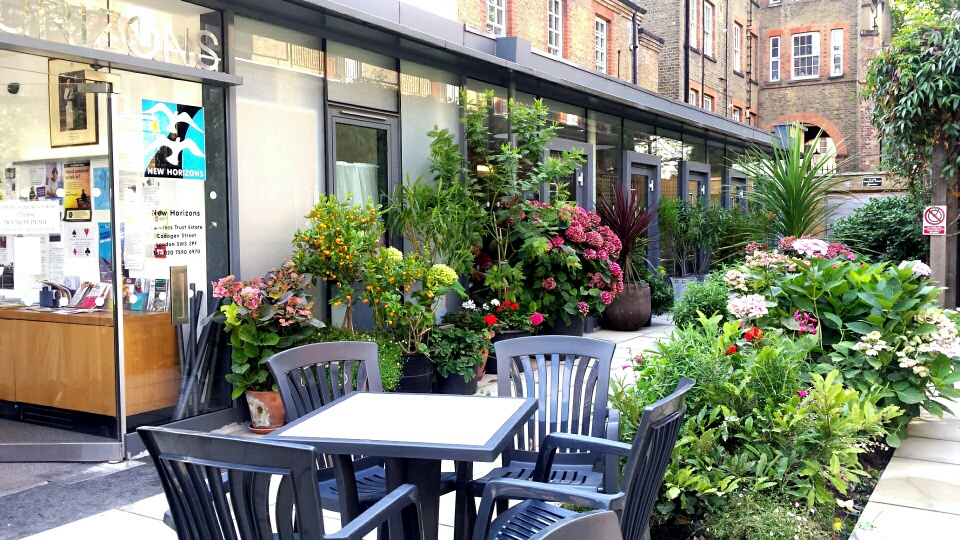 Activities
There are over 80 regular weekly activities at the centre, as well as at various venues in the community. We charge a nominal fee of between £1.00 and £3.00 per class. In addition to our activities the centre offers a stunning garden area and a cafe open to the community.
New Horizons Café
Open 9:30 - 4:00 Monday to Friday (last service 4:00).
Run in partnership with Open Age and Unity Works, New Horizons Café sits at the heart of the New Horizons Activity Centre in Chelsea. The café is an ideal place to meet friends for breakfast, morning coffee, lunch or a light snack or after attending one of the exciting classes the centre provides. Our chefs have created a daily changing menu with an emphasis on fresh ingredients and world cuisine. We offer soups, main meat, fish and vegetarian dishes at affordable prices, also sandwiches and a range of homemade cakes including gluten free. We have an extensive range of Fairtrade teas and coffees as wells as soft drinks and freshly squeezed juice.
New Horizons Cafe has been awarded the Healthier Catering Commitment Award in 2019 and 2021.
Events catering
New Horizons Café also offers a full event catering service and is able to provide a range of buffets, large of small, for all tastes and budgets. Give us a call on 020 4516 9970 to discuss your requirements.
Learning and growing with New Horizons Café
As part of the Unity Works training and employment programme, the café offers Traineeships and Life Skill training for people with learning disabilities aged 14 years old upwards. If you are interested, or want to know more about new Horizons Café training programmes then you can contact New Horizons at 020 4516 9970 or visit our Unity Works website
How to find New Horizons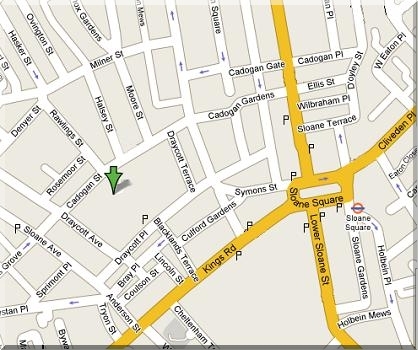 Buses:
Buses 19, 22, 137, 452 and C1 go along Sloane Street
Buses 11, 211 and 319 go along the King's Road (stop nearest to Draycott Avenue)
Bus 360 goes along Sloane Avenue and Draycott Terrace
Underground
Sloane Square is the nearest Tube. (Circle & District Line).
Parking
New Horizons has NO parking. RBKC residents' parking permit holders can park in any resident's parking bay.
There are Disabled Parking bays at 39 Cadogan Gardens, two on one side of the road, one opposite (all near Peter Jones).
If you need help getting to New Horizons
New Horizons is easily accessible by public transport. However, for those residents of Kensington and Chelsea who are unable to use public transport, the following can help in getting to and from New Horizons activities is available:
Needing a bit of extra support to come to one of our activities. we're here for you!. Check our Link up page for referral information.

General Enquiries
Phone: 020 4516 9970
Newsflash
Working in Partnership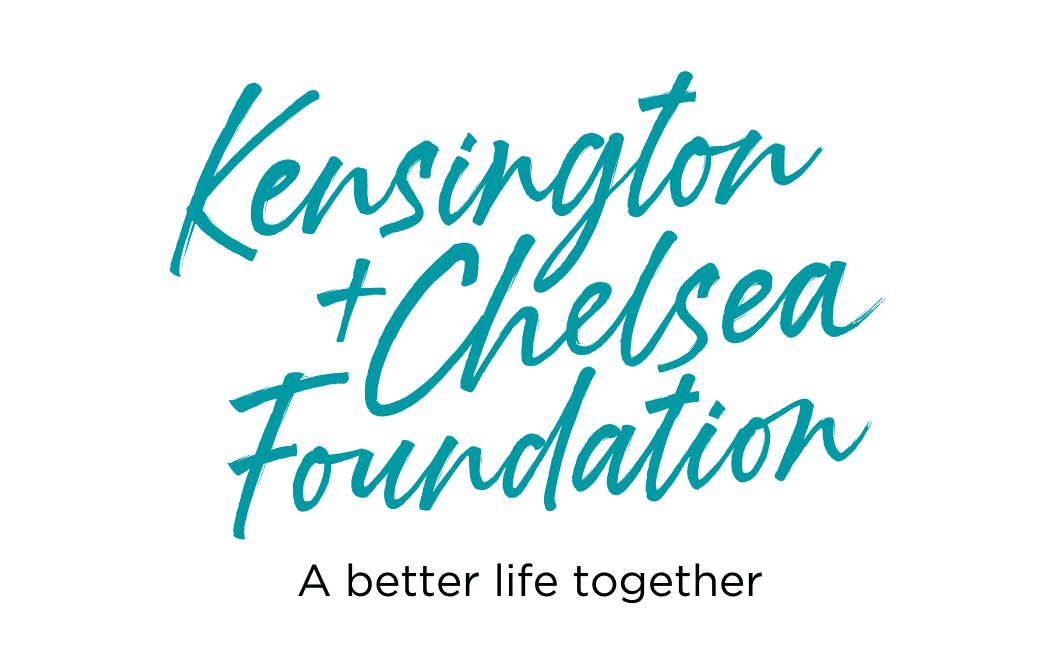 Proud to be working with the K+C Foundation through their Covid-19 Appeal. With this support we are able to grow our exciting online programme and telephone groups to connect with even more Open Age members during the Covid-19 pandemic.
Donate with peace of mind
,

Online payments to Open Age are processed by CAF - Charities Aid Foundation - which is a charity itself that supports other charities with banking, fundraising and lots more. It is safe to make a donation to Open Age using our donate buttons, powered by CAF.
,
For further information, please visit our make a donation page. Alternatively, please feel free to contact mail@openage.org.uk with any questions.
Thank you.