Jean Sheppard, Trustee
Throughout her working life, Jean has been involved in childcare. First, as a council registered child minder and nanny, then as a NNEB trained nursery nurse working in Lambeth day nurseries and at the West Lambeth Child and Family Psychiatric Department. Jean then managed a church charity until she retired in 2001.     
In 1994, Jean attended a training course to become a committee member of a Tenant Management Organisation. She served on the committee for the next five years until she moved out of the area.    
Jean joined Open Age in 2002 and became a trustee in 2004. Since joining she has enjoyed taking part in singing, walking, drama, philosophy, and craft activities. She has also assisted in organising weekly trips for Open Age members in and around London.      
Newsflash
Leaving a Gift in Your Will
Open Age is raising awareness of leaving a gift to charity in your will. Legacies are an important way to support Open Age, as they help us to plan so that we can be there in the future for older people who need us. As well as providing for your family, friends and other loved ones in your will, please do consider the possibility of leaving a gift to Open Age.
,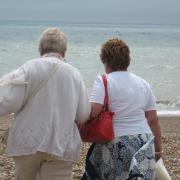 ,
For further information, please download a brochure here or contact Open Age on 020 8962 4141, or email mail@openage.org.uk.
,
New Reed Centre!
We are delighted to be working in partnership with Octavia to deliver activities for older people at The Reed, a vibrant new community hub. For more information click here.