Give an older person the chance to live not just exist
By giving a gift to Open Age
Open Age creates chances for Londoners over 50 to work, learn, take part, and stay healthy in body and mind. Our vision is that everyone in London aged 50 and above will lead fulfilling lives. Gifts, however large or small, are an important source of income, enabling us to continue our work and reach even more people who need our support. Donations can be made through the My Donate site: https://mydonate.bt.com/charities/openage or via JustGiving www.justgiving.com/open-age 
Donations can also be made via text; simply text OPEN10 £(sum of money) to 70070.
Your Will
Once you have made sure people you care about are looked after in your will, please consider leaving a gift to Open Age.   The coming decades will see greater numbers of older people - more people at risk of isolation and feeling that life's given up on them, particularly those who do not have families to turn to.  But it does not have to be like that.  By leaving a gift to Open Age in your will you can ensure we will be here to enrich the lives of future generations of older Londoners who need us.
Did you know…?
Leaving a gift in your will is straight forward and we can provide you with more information about how to do it.   
Give an older person the chance to live not just exist.
Gifts left to charities in wills are tax free.  Also, since April 2012 the rate of Inheritance Tax has been reduced from 40% to 36% for those leaving 10% or more of their estates to charity.
Please let us say thank you
If you plan to remember Open Age in your will, please do let us know.  We would like the opportunity to say thank-you in advance and to understand how best to honour your life through a legacy. Knowing about legacies also helps us to plan for the future.  Every donation, large and small, is valued and we promise will be spent wisely.  All information is treated with discretion and you can tell us as much or little as you wish.
Contact us
To find out more about leaving a gift to us in your will or to let us know you have included Open Age in your Will, please contact Iain Cassidy.
Email: icassidy@openage.org.uk
Direct line: 020 8962 5585
Open Age
St. Charles Centre for Health and Wellbeing
Exmoor Street
London
W10 6DZ
Charity number: 1160125
Newsflash
Leaving a Gift in Your Will
Open Age is raising awareness of leaving a gift to charity in your will. Legacies are an important way to support Open Age, as they help us to plan so that we can be there in the future for older people who need us. As well as providing for your family, friends and other loved ones in your will, please do consider the possibility of leaving a gift to Open Age.
,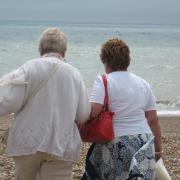 ,
For further information, please download a brochure here or contact Open Age on 020 8962 4141, or email mail@openage.org.uk.
,
New Reed Centre!
We are delighted to be working in partnership with Octavia to deliver activities for older people at The Reed, a vibrant new community hub. For more information click here.