COVID Information & Other Services
NHS VACCINE SCAM TEXTS
There has been scam text message circulating about the COVID Vaccine. These texts will redirect you (via a link in the text message) to a convincing looking website, it will then ask you for bank details. You should never be asked for these personal details over a text. Please be careful and don't share your information.
RBKC COVID TESTING
In this link: RBKC Testing and Tracing for Coronavirus you will find information on:
Community testing for people without Coronavirus symptoms
Testing for people with Coronavirus symptoms
HAMMERSMITH AND FULHAM COVID TESTING
In this link: H&F COVID-19 Testing you will find information on:
Covid-19 tests for people who don't have symptoms
Getting a test if you have symptoms of coronavirus
DEBUNKING VACCINATION MYTHS
Please take a look at the information we've gathered below from reputable sources as to why the vaccination is safe and effective - and share it with anyone you think may benefit.
Press here to read on the BME Health Forum newsletter the first-hand experience of the Head of Social Prescribing and Westminster resident, Concia Albert, who has been given her first dose of the vaccine.
Press here to read over 30 myths being debunked by doctors from the British Islamic Medical Association.
Press here for the National Institute for Health Research's engaging COVID and Me Vaccine Stories YouTube video 'Tie your camel up'. It uses real-life stories to explore the influence that family members have on people's views.
Press here for a YouTube video where the Mayor of London and other celebrities have got together to give reasons as to why we should all take the vaccine.
Press here for a lively YouTube animation where the National Institute for Health Research explains exactly how vaccines are developed to the highest standards, even when developed quickly.
WESTMINSTER COUNCIL – INFORMATION ON VACCINES
Westminster Council have now a page of FAQs about the COVID-19 vaccine on their website. The NHS is working hard to vaccinate the most vulnerable as quickly as possible. This will take time but the NHS is committed to getting to everyone in the top four priority groups (care home residents and staff, over 70s, frontline health and care workers and those at high risk) as quickly as possible and by the middle of February. If you have received a vaccination invite from the NHS, either through your GP or the national booking system, please book and attend your appointment. You do not need to contact the NHS or your GP, they will be in touch to invite you for your vaccination.
We know many of you will have questions about the vaccine and are concerned about the safety of the vaccinations. You can find their full FAQs and information via this link: https://www.westminster.gov.uk/vaccinations
IMPORTANT NOTICE REGARDING TRACK AND TRACE
Please be aware of this telephone scam where callers contact residents saying they are from NHS Track & Trace, telling the resident that they have been in contact with someone suffering from Covid-19 and need to have a test sent out to them. This is then followed with a request for the resident's bank details; the caller states that the test and results cost £500.
Please do not fall for this scam. If you need a test sent out to you because you are unable to attend a test site, this is done for free, both delivery and collection, followed up by the result.
Important things to note, The NHS Test and Trace service will NOT:
ask for bank details or payments
ask for details of any other accounts, such as social media
ask you to set up a password or PIN number over the phone
ask you to call a premium rate number, such as those starting 09 or 087
NHS APP
The NHS COVID-19 app, available to download for free in England and Wales, is the fastest way to see if you're at risk from coronavirus. The faster you know, the quicker you can alert and protect your loved ones and community. The app has a number of tools to protect you, including contact tracing, local area alerts and venue check-in. It uses proven technology from Apple and Google, designed to protect every user's privacy. For more details visit: www.covid19.nhs.uk
TALKING THERAPIES
Finding this year difficult? We're here for you. Reach out for free talking therapy in North West London
The Talking Therapies services across North West London Health and Care Partnership are launching a campaign to remind local residents that mental health services are open and here for them during the pandemic and beyond.
Talking Therapies have been running throughout the pandemic, but we know coronavirus has made stress and anxiety more common for people and we want everyone to know this service is here to help them.
If you are feeling low, anxious, stressed, depressed or finding it difficult to cope then our teams are here to help. Common difficulties include isolation, bereavement, panic attacks, drinking or eating more and taking drugs. If you're feeling this way talk to someone before it gets out of hand.
Some people have experienced these mental health issues for the first time during the pandemic while others have seen them return.
Visit https://www.nhstalk2us.org and fill in a short online form and our teams will book you in for an appointment to discuss any difficulties you are having and the next steps to take.
There's no need for you to travel. They'll speak to you on the phone or in a video consultation. If you prefer to see someone face to face we can arrange this with you.
If you can't get online easily you can also phone for an appointment; call the team in the borough where the GP you are registered with is located. If you are not sure which service your GP is associated with check on this link https://www.nhs.uk/service-search/find-a-psychological-therapies-service or call the number closest to you and they'll make sure you reach the right team.
The Talking Therapies services across North West London are run by Central and North West London NHS Foundation Trust (Brent, Kensington and Chelsea, Harrow, Westminster and Hillingdon) and West London NHS Trust (Ealing, Hounslow and Hammersmith and Fulham).
The campaign will go live in early March as plans for easing of lockdown begin.
The service is not just for difficulties caused by the pandemic, they can also help with pre-existing difficulties such as:
Difficulties sleeping
Trouble falling or staying asleep or sleeping too much
Little interest or pleasure in doing things
Changes to your appetite
Feeling tired or having little energy
Trouble concentrating
Feeling nervous anxious or on edge
Worrying too much about different things
Trouble relaxing
Becoming easily annoyed or irritable
Being very afraid of a specific thing (e.g. injections/ needles, certain animals, lifts)
To speak to the service directly Monday to Friday between 9am to 5pm call
Westminster Telephone: 030 3333 0000
Ealing Telephone: 020 3313 5660
Hammersmith & Fulham Telephone: 0300 123 1156
Hounslow Telephone: 0300 123 0739
Brent Telephone: 020 8206 3924
Harrow Telephone: 020 8515 5015
Hillingdon Telephone: 01895 206 800
Kensington & Chelsea Telephone: 020 3317 4200
Talking Therapies Services are not able to provide immediate support in an emergency. If you require immediate help:
• If you live in Brent, K&C, Harrow, Westminster or Hillingdon contact CNWL's Single Point of Access line (24 hours a day) on 0800 0234 650
• If you live in Hammersmith and Fulham, Hounslow or Ealing contact West London's Single Point of Access line (24 hours a day) on 0800 328 4444.
Covid-19 Vaccine Transportation:

If you are aged 50+ and would like Age UK to arrange free taxi transport to and from your Covid-19 Vaccination appointment within Kensington and Chelsea, Hammersmith and Fulham, Westminister, Hillingdon, Harrow and Brent area, then please get in touch: ashallon@aukc.org.uk or please call on: 07497 188 221 and ask for Amy Shallon.
Newsflash
Working in Partnership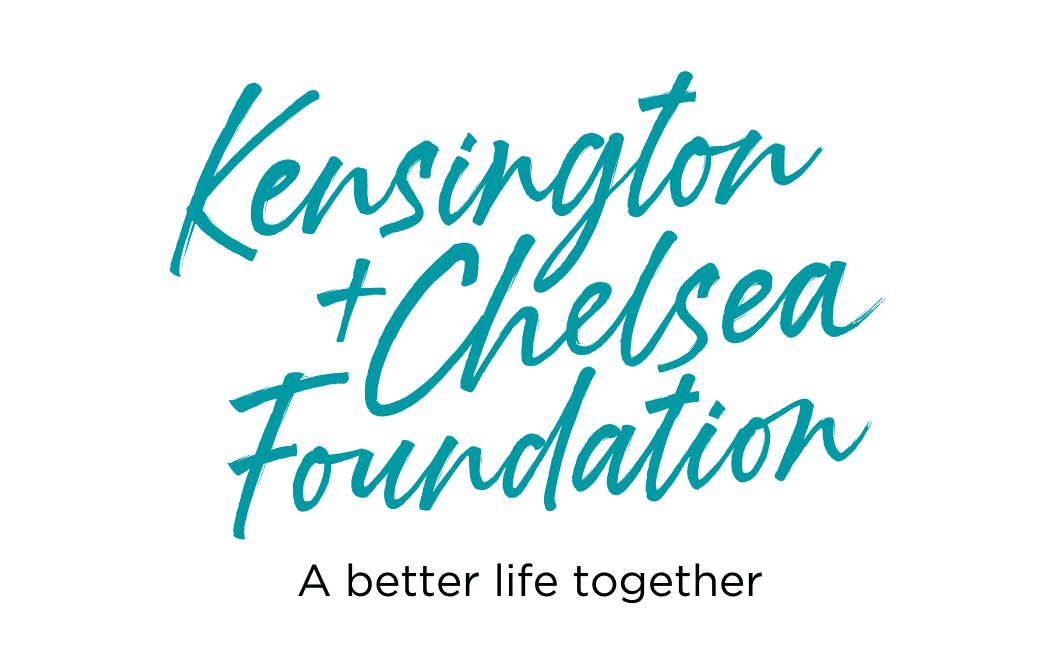 Proud to be working with the K+C Foundation through their Covid-19 Appeal. With this support we are able to grow our exciting online programme and telephone groups to connect with even more Open Age members during the Covid-19 pandemic.
Donate with peace of mind
,

Online payments to Open Age are processed by CAF - Charities Aid Foundation - which is a charity itself that supports other charities with banking, fundraising and lots more. It is safe to make a donation to Open Age using our donate buttons, powered by CAF.
,
For further information, please visit our make a donation page. Alternatively, please feel free to contact mail@openage.org.uk with any questions.
Thank you.